Cook Family


FAMILY BACKGROUND
Joseph B. Cook, the earliest discovered ancestor of this line, was born in New York about 1797 according to U.S. Census records. It is possible he was married 3 times.
The 1850 U.S. Census shows him married to Eliza (age 38 and born in Pennsylvania)

The 1860 U.S. Census shows him married to Casia (age 40 and born in Virginia)

Earlier records show him married to Louisa Burns
The Joseph Cook family moved at least three times over the years.
His first son, Britton Cook, was born in New York about 1830

His second son, Horace Cook, was born in Pennsyvania about 1832

In 1833, Isabella Cook was born in Virginia as well as another daughter in 1836

All the rest of Joseph's children were born in Ohio starting in 1838
From the census records, it appears that Joseph Cook had at least 11 children.
They included:
Katherine Cook

Britton J. Cook

Horace A. Cook

Isabella Cook

M. Cook

C. J. Cook

Nathaniel C. Cook

Abbie Cook

Amanda "Mandy" Cook

Giles Cook

Margaret Cook
In 1853, Britton married Harriet Sina Vining, the daughter of Timothy Birum VIning and Sina Jones.
Meigs County, Ohio Marriage Records, 1852-1862, volume 2, page 64, number 26
Groom: Britten Cook

Bride: Harriet S. Vining

Marriage: 27 Nov 1853

Marriage Place: Meigs County, Ohio

Performed By: Rev. T.A. Welsh
Per the 1860 U.S. Census, Britton and Harriet resided in Syracurs Township, Meigs County, Oho, Listed are:
Britian Cook, age 30, born New York

Harriet Cook, age 22, born Ohio

Tracy A Cook, age 5, born Ohio

Zillah Cook, age 3, born Ohio

Ellen Cook, age 2, born Ohio
Britton and Harriet are known to have 5 children:
Tracy A. "Addie" Cook (1854-1937)

Zillah Cook (1857-Bef 1863) - Died before 5th birthday

Ellen Cook (1858-Bef 1863) - Died before 5th birthday

Lillian Maybelle "Belle" Cook Lathey (1860-1919)

James Harvey Cook (1862-1931)
Britton Cook was a Corporal in Company E, 4th Regiment of West Virginia Volunteer Infantry, Union Army. From a rough transcription of a Muster Roll and Pay Roll dated December 31, 1862, the 4th Infantry was organized at Mason City, Mason County, Virginia in the summer of 1861.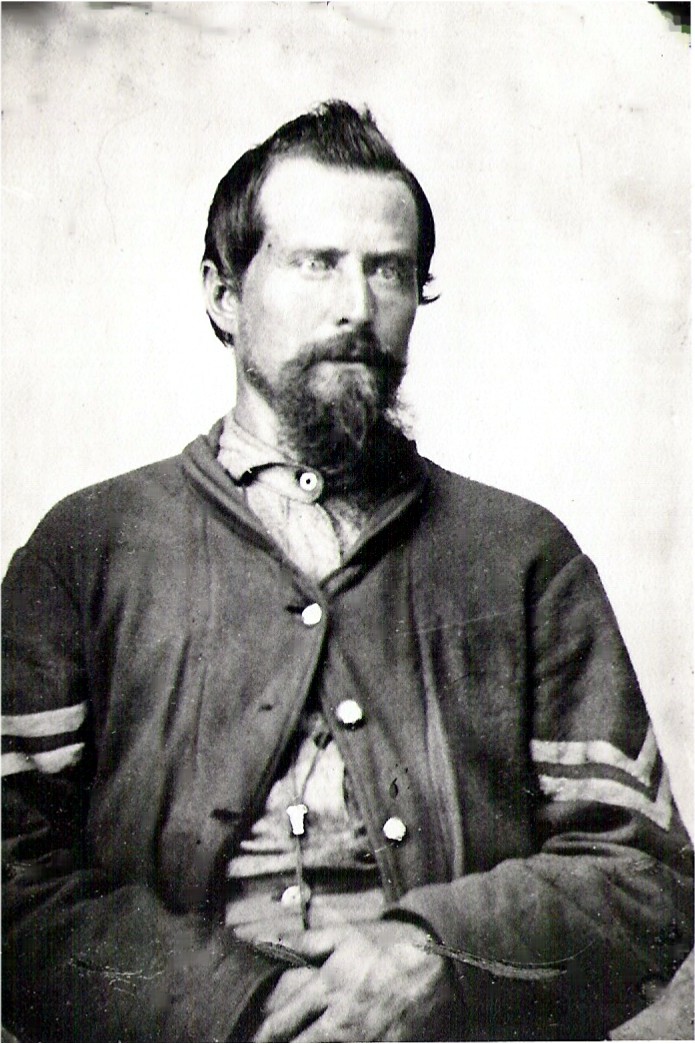 Cpl Britton J. Cook
According to Boyd B. Stutler in "West Virginia in the Civil War", Company E was recruited in Racine, Pomeroy, and Syracuse, Ohio, and crossed the Ohio River as an organized infantry unit to join the new regiment.
The 4th was a very active and far-ranging outfit during the War, participated prominently in the siege and capture of Vicksburg in 1863, and suffered heavy losses in that and subsequent campaigns. Again according to Stutler, by December 1864 the 4th regiment was so depleted that it lost its identity when consolidated with another unit. Stutler mentions that Corporal Britton Cook lost his life at Vicksburg. Britton Cook is buried at the Memphis National Cemetery, Section H Site 4190, in Memphis, Shelby County, Tennessee.
In the book "Loyal West Virginia 1861-1865", Theodore Lang writes:
"About the 10th of May, the Fourth, under command of Colonel Dayton, received orders to march to the front with General Lightburn's brigade, Blair's division, 15th Army Corps. On May 19th, the memorable assault on Vicksburg occurred.
The Fourth Regiment was placed in the advance of Lightburn's brigade and charged the enemy's works. A few men scaled the parapet, among them Capt. Finley D. Ong, of Company F, and Britton Cook, a corporal of Company E, who entered the Confederate works; they were wounded and taken prisoners and died in the enemy's hands."
| | |
| --- | --- |
| | |
| Gravestone at Vicksburg National Cemetery, Vicksburg, MS | Plaque at Vicksburg National Cemetery |
FAMILY INFORMATION
Click on the following link to view information on the descendants of Joseph B. Cook to the present. This report is generated by the Legacy Genealogy program.
(Report with documentation also available)
Cook Family Descendant Book (1797 - Present) - a privatized (dates & places of living people omitted) 9 Generation Descendant Book (PDF), starting with Joseph B. Cook - 22 pages plus index.

Britton J. Cook Find A Grave - Burial information with links to descendants



Leave message in Guest Book on the Home Page with questions or comments about this web site.
Last modified: October 13, 2022