Lathey Family


FAMILY BACKGROUND
John Lathey, the progenitor of many Lathey families in America, is estimated to be born about 1750. By the 1770's, he had immigrated to America
since he was renting land
in

Fauquier County Virginia

as early as 1778.

He cannot be found on any documentation from 1810 forward and it is assumed he died before 1810.
Family legend claims the Lathey family is of Scotch-Irish or Irish origin, and many believe the name may have been McLatha or MacLatha. There is a Lathey clan in New York State that claims descent from another John Lathey who was born before 1816 in Ulster, Ireland and immigrated to America during the 1800's. One theory is that both families are connected and came from the northern part of Ireland, although there is a span of fifty or sixty years between immigrations.
John Lathey married Susannah Burton and had a son, William Lathey. William was born in Fauquier County, Virginia in late 1783 or early 1784. Some 22 years later, William made an application for a marriage bond on January 13, 1806 in Fauquier County to marry Elizabeth Hudnall. Elizabeth is the daughter of Thomas and Mary Ann Strickler Hudnall, born circa 1783 in Fauquier County, Virginia. William Lathey is listed on the 1810 Census with one male child and one female child between the ages of 1 and 10 years.
William and Elizabeth migrated to Ohio sometime during the years 1815 and 1816. The 1820 Athens County, Ohio census shows William Lathey with a family of five female children, four between 0 and 10 years old and one between 10 and 16 years old.
Based on later records, the 5 female children would be: Janette, Susan, Mary A., Elizabeth, and Nancy.
The will of William Lathey is filed in the Athens County, Ohio Record of Wills, Vol 1a-1b, 1814-1828, Probate Date 1 Apr 1826, Page 80. It states: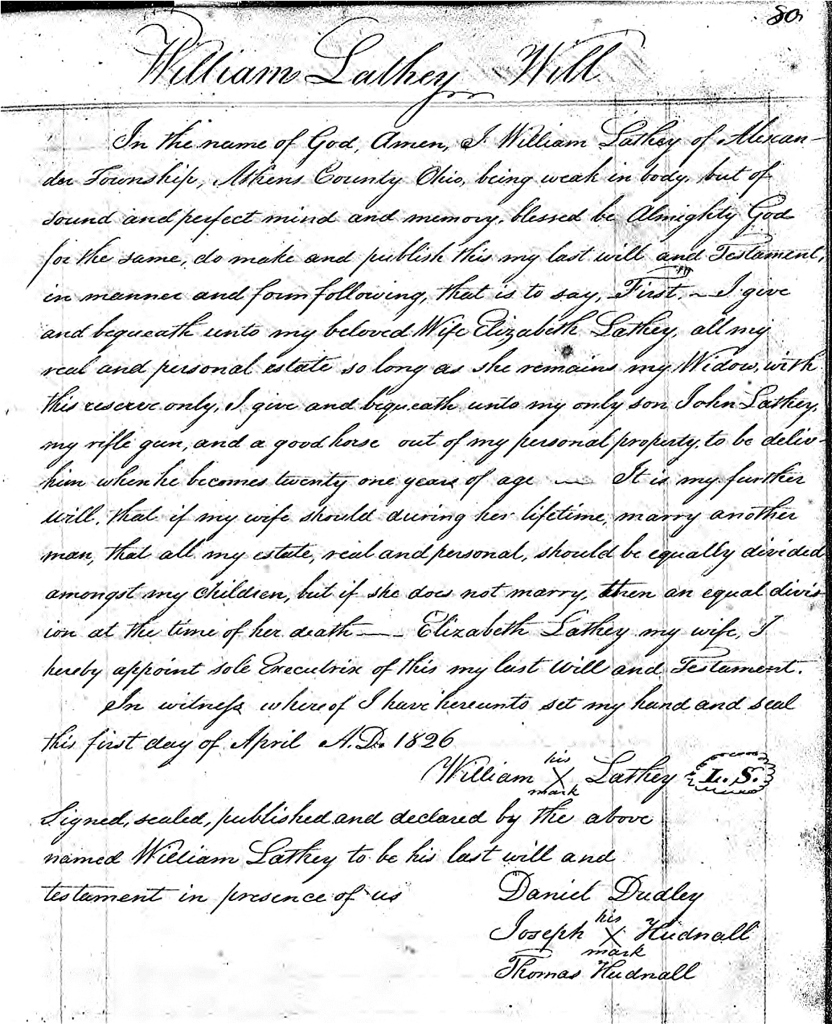 In the name of God, Amen. I, William Lathey of Alexander Township, Athens County, Ohio, being weak in body but of sound and perfect mind and memory, blessed be to Almighty God for the same, do make and publish this my last will and Testament, in manner and form following, that is to say. First, I give and bequeath unto my beloved wife, Elizabeth Lathey, all my real and personal estate so long as she remains my Widow, with this reserve only. I give and bequeath unto my only son, John Lathey, my rifle gun and a good horse out of my personal property to be delivered to him when he becomes twenty-one years of age. It is my furthur will that if my wife should during her lifetime marry another man, that all my estate, real and personal, be equally divided amongst my children, but if she does not marry, then an equal division at the time of her death. Elizabeth Lathey, my wife, I hereby appoint sole executrix of this my last will and Testament.

In witness whereof I have here unto set my hand and seal this first day of April A.D. 1826.
his


William

X

Lathey


mark
William's son, John Taylor Lathey (1822-1872), married Sarah Horner in 1842. They are known to have 12 children. Many of their decendants gathered for Sarah's 90th birthday in 1912. The picture below was published in a local paper sometime before 1978.
Known Relatives in Picture with Sarah Horner Lathey
Name
Relationship
Pearl Lathey
Son of Charles Lathey, Grandson of Sarah Horner Lathe
Frank Lathey
Son of Charles Lathey, Grandson of Sarah Horner Lathey
Ed Romine
Son of Elva Lathey Romine, Grandson of Sarah Horner Lathey
Mrs. Westfall
Sarah Lathey, Daughter of Sarah Horner Lathey
Mr. Westfall
Alexander Westfall, Son-in-law of Sarah Horner Lathey
Sarah Lathey
Wife of Riley Lathey, Daughter-in-law of Sarah Horner Lathey
Riley Lathey
Son of John Lathey, Jr. Grandson of Sarah Horner Lathey
Etta Romine
Daughter of Sarah Horner Lathey
Nora Lathey
Wife of Charles Lathey, Daughter-in-law of Sarah Horner Lathey
Charles Lathey
Son of Sarah Horner Lathey
George Lathey
Son of Charles Lathey, Grandson of Sara Horner Lathey
Happy Wells
Step-daughter of Riley Lathey, Step-granddaughter of Sara Horner Lathey
ADDITIONAL FAMILY INFORMATION
Click links below to view information on the descendants of John Lathey to the present.
The Descedant Book report is generated by the Legacy Genealogy program.
(Report with documentation also available)
The link to "Our Lathey Family" goes to a digitized copy of a book first published in 1981 by Carmen Lathey Barron, the GGGG Granddaughter of John Lathey. It is a collection of her research and findings concerning the ancestors and descendants of George Wilman Lathey (1878-1945), Carmen's grandfather.
Lathey Family Descendant Book (1750 - Present)

-

a privatized (dates & places of living people omitted) 10 Generation Descendant Book (PDF), starting with

John Lathey

- 119 pages plus index.

"Our LATHEY Family"

by Carmen Lathey Barron, originally published 1981
The book is a PDF file that represents the original book.

It has not been updated and contains all the original errors.

It is not the intent to update the book but to make it available to any family researcher that has a connection to the Lathey lines and related families.

Carmen passed away on 2 Jun 1987 and the original book is now out of print.



Leave message in Guest Book on the Home Page with questions or comments about this web site.
Last modified: March 24, 2021