Nininger/Neininger Family


FAMILY BACKGROUND
Mathias Nininger and his brother, Meinrad Neininger are the earliest discovered ancestors in the U.S. of this line. They are the sons of Landelini and Theresiae Uhl Neininger. There is no evidence that their parents came to America with them. The surname was spelled several ways. Mathias' name evolved over time and dropped the "e".
Mathias was born 24 Feb 1801 in Baden, Germany and died 13 May 1877 in Fairfield County, Ohio. He lived in Ohio as early as 1833, when his first child, John, was born. Meinrad was born 7 Jul 1810 in Baden, Germany and died 21 Apr 1878. Both brothers settled in Fairfield County, Ohio.
Mathias Nininger married Emaline Kasper, who was also born in Baden, Germany about 1803. She died 5 Mar 1883 in Fairfield County, Ohio. There is some confusion about her first name. She is listed in the 1850 and 1860 U.S. Census as "Emaline". In the 1870 U.S. Census, she was listed as "Effa" and in the 1880 U.S. Census, her name was listed as "Aphresene".
Mathias and Emaline Nininger are known to have 7 children in Fairfield County Ohio.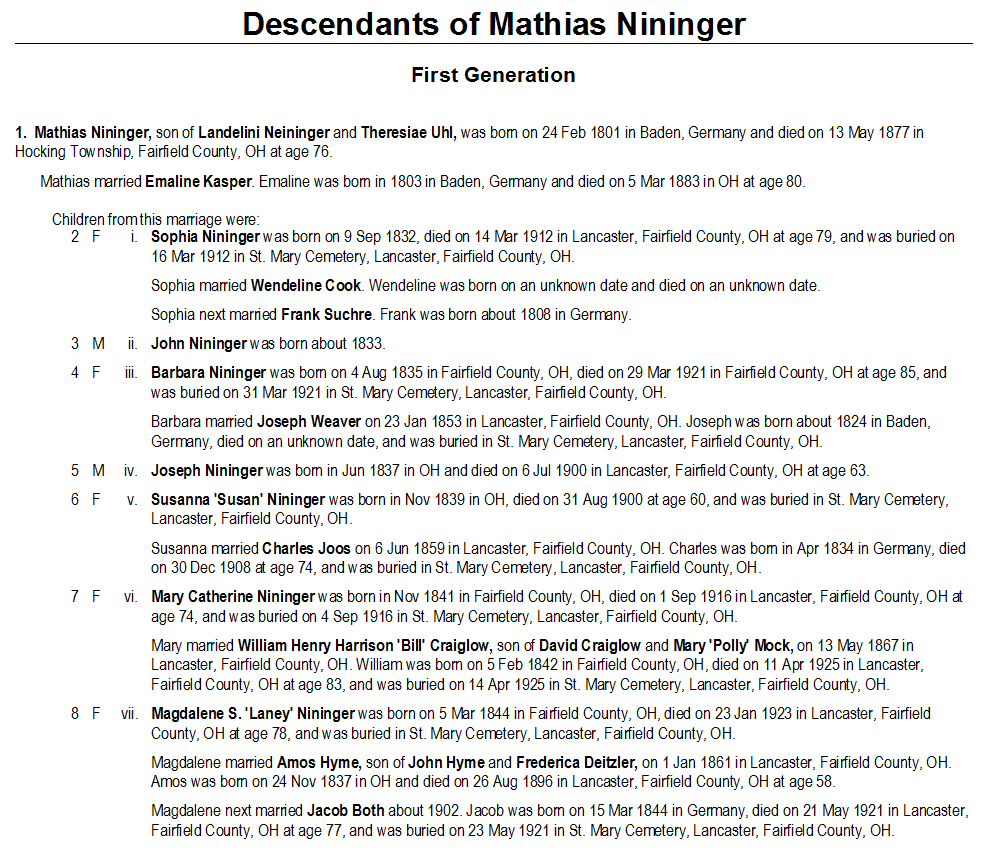 From records at the Fairfield County Court House in Lancaster, Ohio - 10 Sep 1894
Know all men by these presents: that Sophia Sucher, a widow; Barbara Weaver, widow; Susan Joos and Charles Joos, her husband; Mary Craiglow and William Craiglow, her husband; Laney Himes and Amos Himes her husband in consideration of one ($1.00) dollar and other considerations to them paid by Joseph Nininger of Hocking Township, Fairfield County, Ohio the receipt whereof is hereby acknowledged, do hereby remise, release, and forever quit claim to the said Joseph Nininger and his heirs and assigns forever the following real estate. To wit: situate in the county of Fairfield in the State of Ohio and known and distinguished by being the south west quarter of the south west quarter of section No. Twenty Two (22) in Township No. fourteen(14), Range No. nineteen (19) containing forty (40) acres of land be the same more or less and all the estate, title and interest of the said Grantors either in law or in equity, of, in and to the said premises; Together with all the privileges and appurtenances to the same belonging, and all the rents, issues and profits thereof; To have and to hold the same to the only proper use of the said Joseph Nininger and his heirs and assigned forever.

In Witness whereof, the said grantors, (the said Amos Hyme, Charles Joos, and William Craiglow waiving all right to Dower or curtesy in said premises) have hereunto set their hands and seals, this_____ day of September, in the year of our Lord one thousand eight hundred and Ninety four.

Signed, sealed and acknowledged in presence of us: John Springer, Louis Lawrence, James Robinson, Justice of the Peace, Nora Fox.

Mary (her x mark) Craiglow
William (his x mark) Craiglow
Laney (her x mark) Hyme
Amos Hyme
Barbara (her x mark) Weaver
Susan Joos
Charles Joos
Sophia (her x mark) Sucher

The State of Ohio, County of Fairfield,:
Be it remembered that on the 10 day of September in the year of our Lord one thousand eight hundred and Ninety four, before me, the subscriber, a Justice of the Peace, personally came Barbara Weaver, Susan Joos, Charles Joos, Mary Craiglow, William Craiglow, Laney Himes and Amos Himes, the grantors in the forgoing Deed and acknowledged the signing and sealing there of to be their voluntary act and deed for the uses and purposes therein mentioned.

Signed by John W Lysinger, Justice of the Peace.

James Robinson, Justice of the Peace in Putnam Co., OH on Sept. 18, 1894 Sophia Sucker came before him to grant and acknowledge the deed.
Meinrad is buried in Elmwood Cemetery in Lancaster, Fairfield County, Ohio. He married 3 times. His first wife, Barbara Schatzle, died in 1850. Meinrad then married Christena Iegle/Jengle on 18 Apr 1852 in Lancaster, Fairfield County, Ohio. Christena died in 1866. He then married Seleste M. Urice. Many of his children spelled their name NININGER.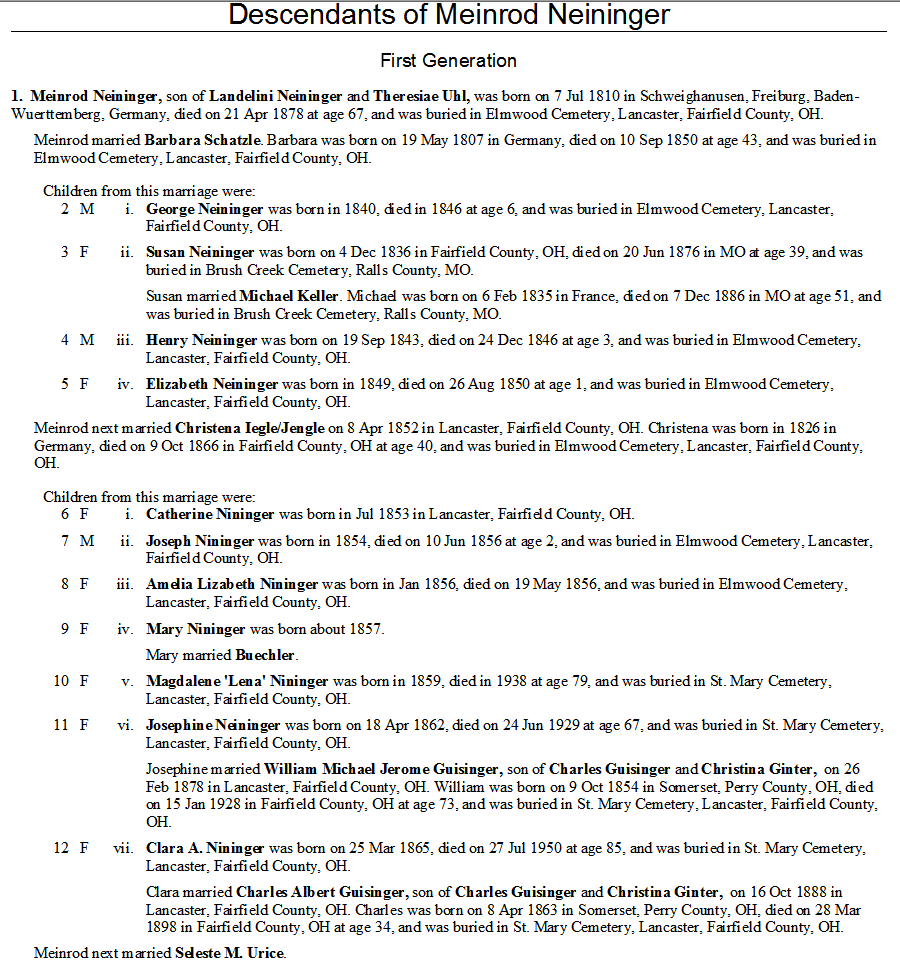 WILL OF MEINROD NININGER (typed as written)
The State of Ohio
Fairfield County pc.

Be it remembered that on the 3rd day of May, A.D. 1878, a paper writing purporting to be the last Will and Testament of Nimrod Nineinger late of Fairfield County Ohio deceased was in the Probate Court of said County and offered for Probate.

Will of Minerod Ninenger Hamburg, Fairfield County, Ohio - January 13, AD 1877 In the Name of the Almighty Creator I herein make my last Will and Testament

My Daughter Susan, wife of Michael keller who is now diseast has had her out-fit for housekeeping and also the Price of a cow in money as was her choice at the time is now to leave nothing more nor is she entitled to anything more until the division of my land, then her children shall leave divided equally between them the balance of what would have been her share after deducting Two Hundred and Sixteen dollars of a mortgage on Wendel Cook which was signed over to her husband Michael Keller By me to paid him in a purchase of some land and which was one half paid to him on Estate and the other half loaned to him in the year A.D. 1861 and which has nothing been paid back to use so therefore, the one half of One Hundred and Eight dollars shall run on interest at (6) six per cent until the final settling up of the estate at which time her heirs who may be of age, shall leave their share of what would be the balance of her share paid to them and those who may not be of age must choose some responsible person as guardian to receive their share who will take proper care of it for them until they may come of age.

The household utensils, things & goods which I may leave shall be divided to my other daughters, which is Mary, Laney, Josephine, and Clara provide they can divide them satisfactorily between themselves and if they can't agree on a divide or what part they may not agree on is to be put to sale by the Administrator as is the Horses, stock, farming utensils and all Chattels be sold and the money & also money on lands or deposit be equally divided to the four last named heirs after burying expenses.

Except the --------- be it which ever one of the four it may be that stays at home, with me and does a good part by me until the last, shall leave Twenty five dollars extra as her reward but if more than one stays, this Twenty five dollars is to be equally divided between them or be put in the hands of their guardians who shall be some responsible person or persons to be kept safe for them until they come of age and I also herein choose for these A. T. Reed who is to be the Administrator of my estate and do the best he can in setting up they estate according to his knowledge and ability. Furthermore, the cows or cattle may also be divided between these last unwed four heirs or be first in the sale at their option.

Minerod Nininger

Witnesses:
August Boden
Bernard Wolfe
Amos Reed
FAMILY INFORMATION
Click on the following links to view information on the descendants of Mathias Nininger and Meinrad Neininger to the present. The reports are generated by the Legacy Genealogy program.
(Reports with documentation also available)



Leave message in Guest Book on the Home Page with questions or comments about this web site.
Last modified: October 19, 2022