Salts Families


FAMILY BACKGROUND
Thomas Salts, Sr. was born about 1759 in Ireland, died in 1819 in Jackson County, OH about age 60, and was buried in Old McArthur Cemetery, Vinton County, OH. He was listed in the 1782 and 1784 Virginia State Census, which shows three people in the household. On July 21, 1789, he received a land grant of 202 acres in Hampshire County, Virginia.
On June 24, 1814, Thomas Salts purchased land in Ross County, Ohio. This land is now in Vinton County. Due to many boundary changes, the land purchased by Thomas Salts was in three different counties (Ross, Jackson, and Vinton) from 1814 to 1850. Thomas and his sons came to McArthur, Ohio, and they worked as coal miners and lumbermen.
There are some family descendants that spell their name SALTZ.
Thomas married Mary A. Burton on 30 Oct 1780 in Preston, Lancashire, England. Mary was born on 5 Jan 1763 in England, died on 10 Jul 1846 in Vinton County, OH at age 83, and was buried in Old McArthur Cemetery, Vinton County, OH. The inscription on Mary Burton Salts' tombstone reads:
MARY
Wife of
Thomas Salts
DIED
July 10, 1846
Age 83 yrs, 6 mo, 5 da.
Near her gravesite is a stone that reads "James W., son of T. and M.A. Salts", there are no dates listed.
In the book "History of Hocking Valley, Ohio" published in 1883 by Inter-state publishing Company in Chicago, Chapter XLIX, pages 1354-1355, Mary Salts is listed as an organizer of the Disciple Church group of Clinton Township in 1846. Her son Edward and his wife and their son, Edward Salts, Jr. and wife, were also among the organizing group. The section reads:
CHURCHES AND SOCIETIES

"The Disciple Church, of Clinton Township, is a brick structure of good size and was built in 1866, at a cost of $2,000. The society itself was organized in 1846 by Rev. Daniel Parkinson, with the following members: John Yager and wife, Patrick Reed and wife, John Robbins and wife, Mrs. Mary Murdock, Mrs. Mary Rankin,

Edward Salts and wife

,

Mary Salts

,

Edward Salts, Jr.,and wife

, Levi Wyman and wife,

Stephen Salts and wife

and Mrs. Nelson Hoffhine."
Children of Thomas and Mary Salts were: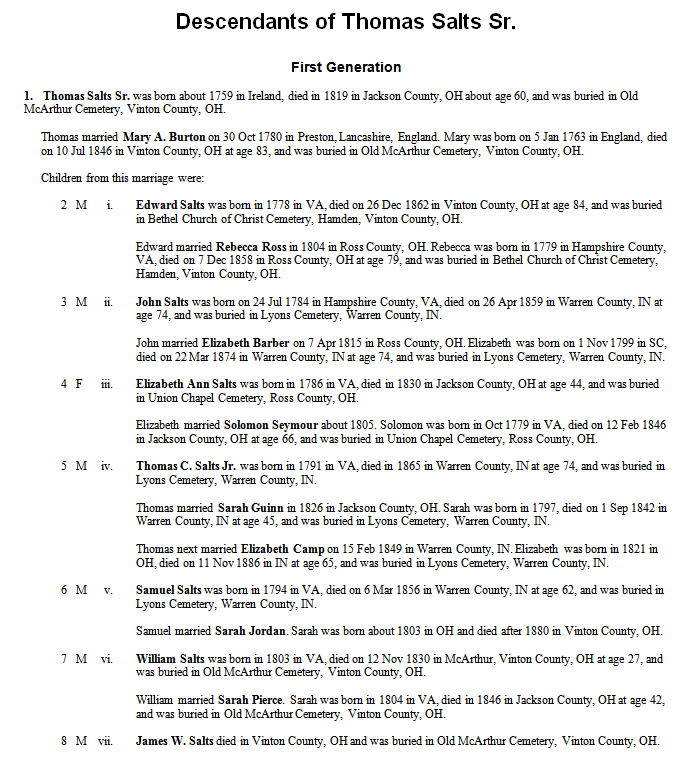 Edward Salts, Sr. (1778-1862), the eldest son of Thomas Salts, Sr. married Rebecca Ross in 1804 and had 8 known children. Their son, Edward Salts, Jr. (1811-1854) married Matilda Lively Morrison on 30 Sep 1842 after his first wife, Clarissa Cassill, died in Jan 1842 (not 1840 as stated below).
The youngest son of Edward Salts, Jr. and Matilda was Andrew W. Salts (1853-1913). In the book "History of Hocking Valley, Ohio" published in 1883 by Inter-state publishing Company in Chicago, pages 1264-1355, Judge A. J. Salts and his family was highlighted with a biography. It states:
A. W. Salts, Judge of Probate Court, McArthur, is a son of Edward Salts, Jr., who was born in Ross County, Ohio, in 1812
[most likely 1811]
, and died in Vinton County, Nov. 17, 1854, from injuries received some time previous at a barn raising. He was brought by his parents to where McArthur Junction now is in 1816. He was through life mostly a farmer, although the latter part he kept a grocery store where the old McArthur station now stands. He was a man of industry, economy and good principle, and accomplished a fair competency.
He married Clarissa, daughter of Harry Cassil, who died about 1840. She was the mother of three children, two of whom were twins and died in infancy. John, the other, married and died in Minnesota, leaving one child---Clara Salts. The second wife of Edward Salts, Jr., was Matilda, widow of George Morrison, whose maiden name was Lively. She was born in Virginia in 1822 and died in Vinton County, Ohio, Dec. 22, 1877, where she had lived since 1830. She had one child by her first husband---Martha J., and by Edward Salts she had five children; by her third husband, William Landman, none.
Her
[Matilda]
children by Edward Salts were---Clara, now Mrs. Joseph Wallace, of Cherokee County, Kas.; Rebecca, wife of Joseph Seay; of Missouri. The three sons are in Vinton County. Of the number, Andrew W. is the youngest, and was born in Vinton County, Feb. 6, 1853. He had the benefit of a common-school education, but by close application of study, and stability of mind, at the age of seventeen was prepared to teach, which he followed seventeen terms, together with farming.
In 1880 he
[Andrew W Salts]
was elected Justice of the peace of Richland Township, and in the fall of 1881 was elected by the Democratic party to his present position, Probate Judge, and at the time, was the youngest man ever elected to that position in the State of Ohio. He was married Sept. 4, 1873, to Margie Buskirk, of Richland Township, but a native of Muskingum County, Ohio. She received a liberal education and taught several terms. They have four children---Herbert L., Clara M., Edna M. and Harry H.
Elizabeth Ann Salts (1786-1830), the eldest daughter of Thomas Salts, Sr., married Solomon Seymour. He served in the War of 1812 under Captain Martin Armstrong's Company, 1st Regiment Ohio Militia, Ross County, Ohio.
FAMILY INFORMATION
Click on the following link to view information on the descendants of Thomas Salts to the present. These reports were generated by the Legacy Genealogy program.
(Reports with documentation also available)
- a privatized (dates & places of living people omitted) 10 Generation Descendant Book (PDF), starting with

Thomas Salts

- 182 pages plus index

Thomas Salts Find A Grave - Burial information with links to descendants



Leave message in Guest Book on the Home Page with questions or comments about this web site.
Last modified: October 19, 2022