Sketch of Moritz Otteni
1829 - 1831

According to German birth and death records, Benedict and Christina Otteni had a son on 5 Sep 1829 named Moritz. The records indicate a problem birth and an emergency baptism was performed on the day of birth. Moritz lived a year and half. He died on 23 Apr 1831, the same year that Benedict and the rest of the family sailed to America.
The 1958 two page history of the Thimmes family written by Paul Angus McLeod (a descendent of Louisa Otteni Thimmes) mentions a Margaret Otteni, as a daughter of Benedict and Christina Otteni. Based on German records, this was in error but Paul McLeod's history may have interpreted Moritz as Margaret.
The following are the German birth and death records.
Digital State Archives of Baden-Württemberg, State Archives Freiburg, List 10, Urloffen, 1829, now Appenweier, Figure 56, Book page 19, entry #76

Name: Moritz Otteni
Gender: Male
Birth Date: 5 Sep 1829
Birth Place: Appenweier-Urloffen
Father: Benedict Otteni
Mother: Christina Hauser
Baptized: 5 Sep 1829
Godfather: Raymund Laible (39 years old), farmer
Godmother: Ottilie King, wife of Andreas Köhli of local builders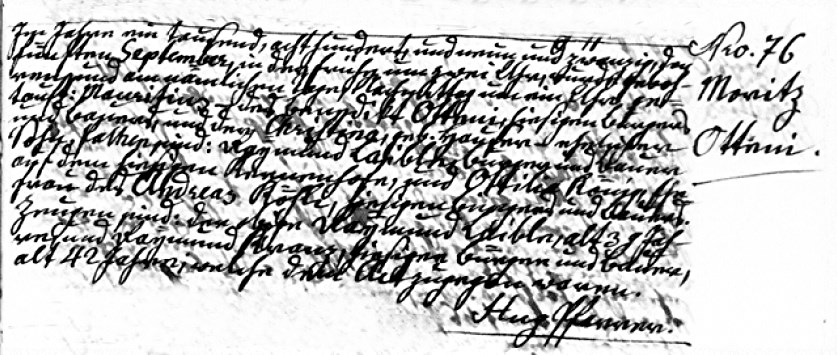 Original German Birth Record for Moritz Otteni in 1829



Digital State Archives of Baden-Wuerttemberg, Freiburg State Archives, List No. 10. 3731, Vol. 1, Catholic community Urloffen duplicate Death Register 1810-1839, now Appenweier, Urloffen, 1831, image 252, Page 235, Entry #27

| | |
| --- | --- |
| Name: Moritz Otteni | |
| Death Date: 21 Apr 1831 | Death Place: Urloffen |
| Burial Date: 23 Apr 1831 | Burial Place: Urloffen |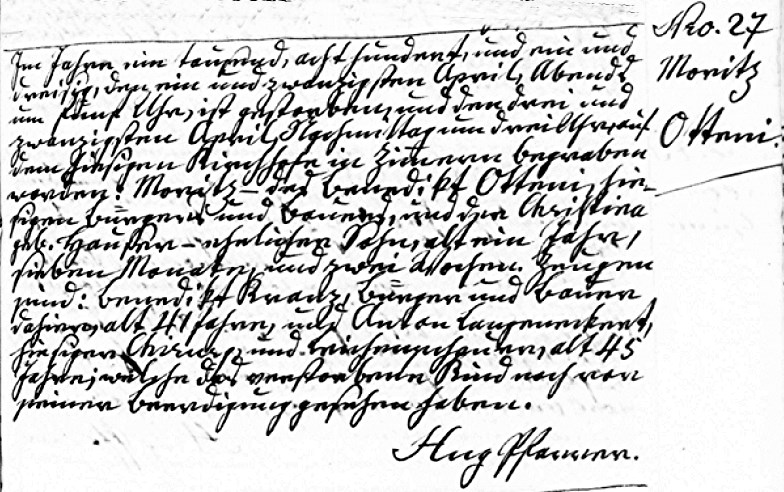 Original German Death Record for Moritz Otteni in 1821



Leave message in Guest Book on the Home Page with questions or comments about this web site.
Last modified: October 25, 2022