Sketch of Frances Otteni Welker
1827 - 1850?

Franziska "Frances" Otteni was the second child of Benedict and Christina Otteni. According to the German church birth records, she was born on 27 Oct 1816 in Urloffen, Germany. However, not very much is known about her.
Frances came to America with the family in the early 1830's. According to Fairfield County Ohio marriage records, Frances "Oteni"" married Joseph Welker on 27 November 1835 in Lancaster, Ohio.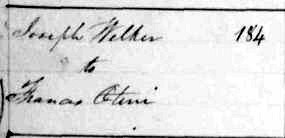 It is assumed that Frances died before 1858. The only record found that supports this conclusion is Benedict Otteni's estate distribution from 1858.
DISTRIBUTION

Amount as above to distribute

$780.31

Of which the
widow Barbara Otney is entitled to

$326.77

Leaving for the heirs

$453.54

To which add advancement as
above to Mrs Nancy Walt
and part of John Otney note

18.50

67.43

Making
for each of the 8 original heirs
and makes amount payable to
each heir as follows:

$539.47

67.43

1. Elizabeth Walt wife of Jerome

67.43

2. Children of Frances Welker dec'd
1. Joseph Welker
2. Mary Lewis wife of


33.72
33.72

3. Teresa Flemm wife of Christian

67.43

4. Joseph Otney

67.43

5. Nancy Walt wife of Daniel 67.43
less advancement 18.50

48.93

6. Emily Shefler

67.43

7. John Otney - nothing

8. Louisa Thimmes

67.43

Total Amount

$453.52
No further records have been located about Frances or Joseph Welker in Fairfield County.



Leave message in Guest Book on the Home Page with questions or comments about this web site.
Last modified: October 20, 2022