Thimmes Family


FAMILY BACKGROUND
Although the original sources are not cited, the "Thimmes Family History", compiled by Paul Angus McLeod in 1958, mentions the following as background on the Thimmes family.
The Thimmes name changed from the original spelling of THOIMMES

Mathias Thoimmes, the earliest discovered ancestor of this line, was born in 1781 and died in Fairfield County, Ohio on 11 Jan 1858

Nicholas Thimmes, son of Mathias Thoimmes, was born in Wittenberg, Germany in 1805 and married Catherine Schneider (later spelled Snider)

Mathias Thimmes, son of Nicholas Thimmes, was born in Trier, Germany in 1829

In April 1842, the Thimmes family moved to Fairfield County, Ohio from Germany
The following chart shows Mathias Thoimmes, his son, Nicholas, and the children of Nicholas.


It is believed that Mathias Thoimmes

and his son, Nicholas and wife, Catharine and their 7 children (all born in Germany) migrated from Germany to Ohio at the same time. It is not known whether Mathias' wife made the trip. Mathias Thoimmes is buried at

Our Lady of Good Hope Cemetery
in Hocking County, Ohio, just west of Sugar Grove.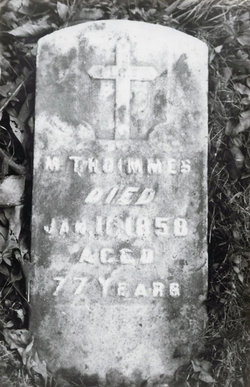 Mathias Thimmes (1829-1892) (son of Nicholas) married Louisa Oatney, daughter of Benedict and Christina Otteni. She was born on 11 Mar 1836 in Fairfield County, Ohio. Lousia was 17 years old when she married Mathias Thimmes on 7 Aug 1853. Joshua Young, a priest at St. Mary Catholic Church, performed the marriage. No witnesses were recorded in the Fairfield County Court House files.
In the 1870 U.S. Census, both Mathias Thimmes and his oldest son, John Henry Thimmes, listed their occupation as "butcher". According to the 1880 U.S. Census, Christian, Charles, William and Frank were also in the butchering business. They all were listed with the occupation of "butcher."
According to The Biographical Record of Fairfield County and Perry Counties, Ohio, published in 1902, pages 214-216, John Henry Thimmes began to assist Mathias at the meat market at the age of twelve.
JOHN H. THlMMES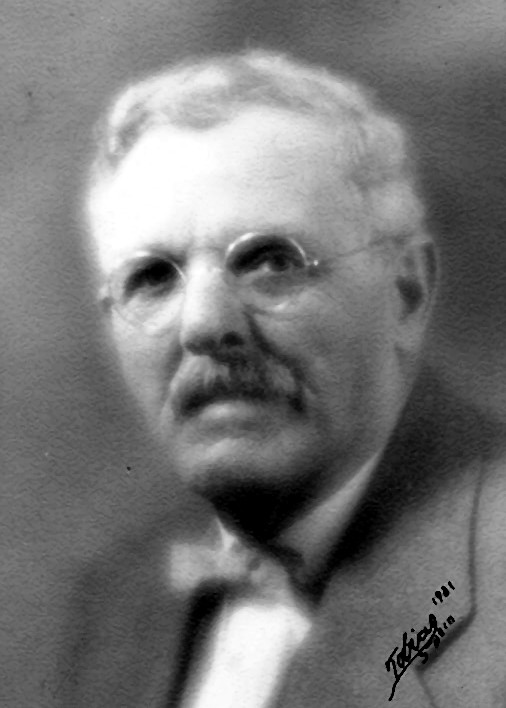 Faithfulness to duty and strict adherence to a fixed purpose in life will do more to advance a man's interests than wealth or advantageous circumstances. The successful men of the day are they who have planned their own advancement and have accomplished it in spite of many obstacles and with a certainty that could have been attained only through their own efforts. This class of men has a worthy representative in John H. Thimmes, who as a member of the firm of Thimmes Brothers, is engaged in the "wholesale and retail shipping and pork packing business. They are also proprietors of two meat markets in the city of Lancaster and the business has assumed extensive proportions, calling forth keen discrimination, capable management and untiring industry in its conduct.
John H. Thimmes was born in the city of Lancaster, November 1, 1853. His father, Mathias Thimmes, was a native of Baden, Germany where his birth occurred on the 24th of April, 1831. He was in his eleventh year when, in April, 1842, he was brought to the United States by his parents, Nicholas and Catherine (Snider) Thimmes, who on crossing the Atlantic to the new world took up their abode on a farm in Fairfield county, Ohio, where they resided until called to their final rest. Mathias Thimmes, the father of our subject, was reared upon the home farm and on leaving the parental roof learned the butcher's trade in Lancaster. He afterward opened a meat market in this city and in connection with its management began dealing in live stock, hogs and cattle. He carried on his own butchering and often bought and sold for parties in the east. His business reached quite extensive proportions, becoming one of the leading commercial interests of this city. In August, 1851, in Lancaster, Mathias Thimmes was united in marriage to Louise Oatney, of this city. She was born in Fairfield county in February 1832, a daughter of Benedict and Christina (Houserine) Oatney. She is the only surviving member of his father's family with the exception of Mrs. Emma T. Sheffer, of Fairfield county. Unto Mr. and Mrs. Thimmes were born fourteen children: John H. of this review; Benedict, who died August 3, 1858; Christ C., born May 6, 1857; Charles N., born August 4, 1858; Louisa, born March 3, 1866, and now the wife of J. P. Miller, a merchant of Columbus; William E., a butcher, who was born March 22, 1862: Frank D., born December 14, 1863; Mary E., born October 18, 1865; Sarah E., born February 12, 1867, and now deceased; Maggie L., who was born January 19, 1869, and is the wife of Ed Brown, a merchant tailor of Indianapolis, Indiana; George Mathias, who was born November 17, 1871, and is engaged in the butchering business; Emma G., born December 12, 1873, and now the wife of Henry McLeod of Danville, Illinois; Clara Philomina, born March 8, 1876; and Joseph F., born June 27, 1877. The father of this family died in September, 1893, but the mother is still living. He was a Democrat in his political views and was a devout member of St. Mary's Catholic church, to which Mrs. Thimmes and all her children and grand-children also belong .
John H. Thimmes, whose name begins this sketch, was educated in the parochial schools of Lancaster, and at the age of twelve years began to assist his father in the meat market, which had been established in 1848, and was conducted by his father until 1877. Our subject continued to assist in the conduct of that enterprise as an employee until his twenty-first year, when entered into partnership with his father, the connection being continued for four years. On the expiration of that period our subject purchased his father's interest in the market, continuing business alone for three years, when he entered into partnership relations with his two brothers, Christian and Charles W., under the firm name of Thimmes Brothers. They are now carrying on an extensive butchering business and have a large building, which was erected for packing, smoking and curing of meats. There is also a cold storage in connection and the members of the firm are extensive buyers and shippers of hogs and cattle. They also feed large numbers and handle annually about thirty thousand hogs and a large number of export cattle, which they buy and ship to Baltimore, Maryland, their principal hog markets being Pittsburg, Pennsylvania, and Chicago, Illinois. The business has now assumed extensive proportions and annually brings to the partners a handsome financial return on their investments.
John H. Thimmes, of this review, has been married three times. He first wedded Mary Bodenheimer, of Fairfield county, by whom he had seven children, namely: Loretta, Leah, Silas, Annie, John, Mary, and Rachel. There were no children by the second marriage. For his third wife Mr. Thimmes chose Helen Winters, the widow of Mr. Breslin. Our subject, his wife and children are all members of St. Mary's Catholic church. They have a very fine residence modern in all its appointments and supplied with all of the comforts and many of the luxuries which go to make life worthy the living. In addition to his city property Mr. Thimmes owns a fine farm of four hundred acres, where he raises cattle and hogs and where the fields are under a high state of cultivation. His life has been one of continuous activity, in which has been accorded due recognition of labor, and today he is numbered among the substantial citizens of his county. His interests are thoroughly identified with those of the northwest, and at all times he is ready to lend his aid and co-operation to any movement calculated to benefit this section of the country or advance its wonderful development.
From a combination of records, the children of Mathias Thimmes with their birth and death dates are:
NAME

BIRTH - DEATH DATES

John Henry Thimmes

1 Nov 1853 -

3 Oct 1932

Benedict Thimmes

3 Aug 1855 -

1867

Christian (Christopher) Thimmes

6 Jan 1857 -

3 Dec 1931

Charles Nicholas Thimmes

4 Aug 1858 -

1 Aug 1933

Anna Louise Thimmes (Miller)

3 Mar 1860 -

19 Apr 1919

William Edward Thimmes

6 Apr 1862 -

8 May 1931

Franklin Thomas D. Thimmes

14 Dec 1863 -

6 Apr 1926

Mary Ellen Thimmes

18 Oct 1865 -

10 Jan 1947

Sara Cecelia Thimmes

12 Feb 1867 -

1868

Margaret Louise Thimmes (Brown)

19 Jan 1869 -

24 Jun 1934

George Mathias Thimmes

17 Nov 1871 -

25 Feb 1950

Emma Gertrude Thimmes (McLeod)

12 Dec 1873 -

28 Feb 1955

Clara Philomena Thimmes

12 Mar 1876 -

19 Jan 1960

Frederick Joseph Thimmes

27 Jul 1877 -

16 May 1944
The Thimmes Family History points out that a nurse dropped Sara Cecelia and the fall caused her death in 1868.
FAMILY INFORMATION
Click on the following link to view information on the descendants of Mathias Thoimmes to the present. This report was generated by the Legacy Genealogy program.
(Report with documentation also available)
Thimmes Family Descendant Book (1781 - Present) - a privatized (dates & places of living people omitted) 8 Generation Descendant Book (PDF), starting with

Mathias Thoimmes

- 52 pages plus index.
For more information on Louisa Oatney and Mathias Thimmes, visit the Sketch of Louisa Oatney Thimmes.



Leave message in Guest Book on the Home Page with questions or comments about this web site.
Last modified: October 16, 2017