The Thimmes name changed from the original spelling of THOIMMES

Mathias Thoimmes (grandfather of Mathias Thimmes) was born in 1781 and died in Fairfield County, Ohio on 11 Jan 1858

Nicholas Thimmes (father of Mathias Thimmes), was born in Wittenberg, Germany in 1805 and married Catherine Schneider (later spelled Snider)

Mathias Thimmes was born in Trier, Germany but later moved to Baden, Germany

In April 1842, the Thimmes family moved to Fairfield County, Ohio.

By 1860, according to the U.S. Census, Louisa and Mathias started a family and lived in Fairfield County, Ohio. The census showed five children in the family. They were:
| | |
| --- | --- |
| NAME | AGE LISTED |
| John Thimmes | 7 |
| Benedict Thimmes | 4 |
| Christopher Thimmes | 3 |
| Charles Thimmes | 2 |
| Terese Ann Thimmes | 3 months |
The 1870 U.S. Census shows that the family had grown to eight children although it did not list Benedict. According to the Thimmes Family History, Benedict died in 1867 of pneumonia. The children listed were:
| | |
| --- | --- |
| NAME | AGE LISTED |
| John Thimmes | 16 |
| Christian Thimmes | 14 |
| Charles Thimmes | 12 |
| Anna Thimmes | 10 |
| William Thimmes | 8 |
| Franklin Thimmes | 6 |
| Mary Thimmes | 4 |
| Maggie Thimmes | 1 |
In the 1870 U.S. Census, both Mathias and his oldest son, John, listed their occupation as "butcher". According to The Biographical Record of Fairfield County, John began to assist Mathias at the meat market at the age of twelve. According to the 1880 U.S. Census, Christian, Charles, William and Frank were also in the butchering business. They all were listed with the occupation of "butcher."
In all, Louisa and Mathias had 14 children. From a combination of records, their full names, birth and death dates are:
NAME

BIRTH - DEATH DATES

John Henry Thimmes

1 Nov 1853

3 Oct 1932

Benedict Thimmes

3 Aug 1855

1867

Christian (Christopher) Thimmes

6 Jan 1857

3 Dec 1931

Charles Nicholas Thimmes

4 Aug 1858

1 Aug 1933

Anna Louise Thimmes (Miller)

3 Mar 1860

19 Apr 1919

William Edward Thimmes

6 Apr 1862

8 May 1931

Franklin Thomas D. Thimmes

14 Dec 1863

6 Apr 1926

Mary Ellen Thimmes

18 Oct 1865

10 Jan 1947

Sara Cecelia Thimmes

12 Feb 1867

1868

Margaret Louise Thimmes (Brown)

19 Jan 1869

24 Jun 1934

George Mathias Thimmes

17 Nov 1871

25 Feb 1950

Emma Gertrude Thimmes (McLeod)

12 Dec 1873

28 Feb 1955

Clara Philomena Thimmes

12 Mar 1876

19 Jan 1960

Frederick Joseph Thimmes

27 Jul 1877

16 May 1944
The Thimmes Family History points out that a nurse dropped Sara Cecelia and the fall caused her death in 1868.
It is not clear whether Christian's name is his only name or if Christopher is a second or even his original name. The 1860 U.S. Census lists him as "Christopher" as well as some land transfer documents. However, many records indicate his name was Christian although many records simply abbreviated his name to "Christ."
Much of the history of the family business is recorded in The Biographical Record of Fairfield County published in 1902. The following is an excerpt from the sketch on John Thimmes, son of Louisa and Mathias.

Mathias Thimmes...was reared upon the home farm and on leaving the parental roof learned the butcher's trade in Lancaster. He afterward opened a meat market in this city and in connection with its management began dealing in live stock, hogs and cattle. He carried on his own butchering and often bought and sold for parties in the east. His business reached quite extensive proportions, becoming one of the leading commercial interests of this city.
The biographical sketch indicated that Mathias started his business in 1848. In 1874, Mathias entered into a partnership with his son, John. In 1877, John purchased his father's interest in the business. John continued alone for three years at which time he entered into a partnership with his two brothers, Christian and Charles. The business became known as "Thimmes Brothers."
The sketch continues to say:

They are now carrying on an extensive butchering business and have a large building, which was erected for packing, smoking and curing of meats. There is also a cold storage in connection and the members of the firm are extensive buyers and shippers of hogs and cattle. They also feed large numbers and handle annually about thirty thousand hogs and large number of export cattle, which they buy and ship to Baltimore, Maryland, their principal hog markets being Pittsburgh, Pennsylvania, and Chicago, Illinois. The business has now assumed extensive proportions and annually brings to the partners a handsome financial return on their investments.
Louisa and Mathias owned a number of parcels of land both in the City of Lancaster, Ohio and in Fairfield County. One worthy of mention is at the corner of Columbus Street and Wheeling Street in the city of Lancaster. Mathias purchased the north part of Lot 1 of the 8th Original Square of Lancaster on 1 Apr 1869 for $4,500.
According to the original town layout, as can seen below, the residence stood at the corner of Wheeling Street and Second Street. Even though Second Street became Columbus Street by city ordinance on 21 Feb 1868, the recorded real estate transaction refers to "Second" Street.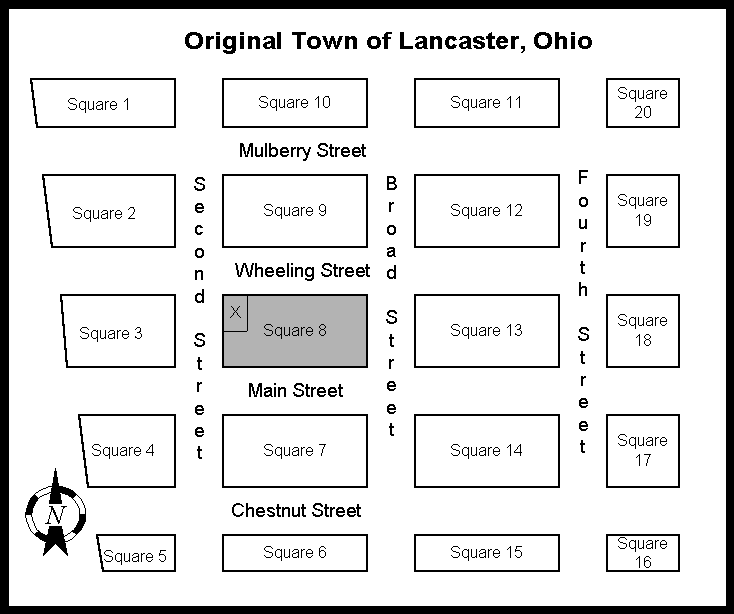 Residence of Louisa and Mathias Thimmes in 1869

Corner of Second (Columbus) and Wheeling Streets
Charles Goslin's book, Crossroads and Fence Corners, Volume II, documents the history of Lot 1 or Square Eight. The following is an excerpt from his book.

Lot One of Square Eight at the southeast corner of Columbus and Wheeling Streets was sold by Noah Zane on April 20, 1804, to John Clark of Belmont County, Ohio....In 1805, John Clark and his wife Rebecca, a sister of Noah Zane, sold this lot to the House of Pancoast & Walker of Philadelphia. On July 5, 1810, Pancoast sold this lot to William W. Irvin. The next year, Judge Irvin disposed of this lot to Philip Helick. Helick divided the lot and sold the north part to Daniel Brumback in 1813.

The south part he sold to William Martin in the fall of the same year. The next year he obtained the Brumback interest in this lot. Some time after William Martin's death, Elnathain Scofield owned this property on the corner of Columbus and Wheeling. It was there Dr. B. Raymond, a graduate of Munich, established his office for medical practice.
It is interesting to note that Mathias deeded this property over to Christopher Thimmes on 25 Jan 1878 for $10.00. Then, on the same date immediately after that transaction, Christopher signed over the property to Louisa for $10.00. Even more interesting is that these transactions were not recorded until four years later on 18 May 1882.
Mathias Thimmes died on 26 September 1892. He is buried in St. Mary Cemetery in Lancaster, Ohio in a family plot with a family monument. Louisa Oatney Thimmes, who died 19 years later on 3 December 1911, is buried next to Mathias. Many other family members are buried in the family plot located in Row 1 of the "Holy Mother of God" section.
For more information on the Thimmes family, visit the Thimmes Family. (Use your browser BACK BUTTON to return to this page)
Click on the following link to view information on the descendants of Louisa Oatney Thimmes to the present.
(Report with documentation also available)
.
Descendants of Louisa Oatney Thimmes (1836-1911)
- a privatized (dates & places of living people omitted) 6 Generation Descendant Book (PDF), starting with Louisa Oatney Thimmes - 26 pages plus index



Leave message in Guest Book on the Home Page with questions or comments about this web site.
Last modified: March 25, 2021